A Ferrari F40 race car worth an estimated £1million leads the Coys Auction at Autosport International, taking place on January 13 at the Birmingham National Exhibition Centre.
Each year the world-renowned historic car specialist holds an auction at the show. This month 52 lots are set to go under the hammer and are expected to fetch approximately £5m in total.
Ferrari F40 Michelotto (LM specification)
In the world of collector car sales authenticity is key. When substantial money is at stake finding a genuine car with comprehensive history is paramount. But this F40 is something of a hybrid. It's not a genuine LM, they're worth three-times more than the cool £1m this car is expected to fetch.
Instead it's an F40 turned into a LM homage and run to the same specification - with competition suspension, air jacks and 720bhp - for entry in the Ferrari Porsche Challenge. In recent years it's had an £80,000 refresh and is now set to star at the NEC.
To celebrate winning the DTM constructors' championship, Mercedes wanted a roadgoing version of Bernd Schneider's race car. The 186mph CLK DTM resulted. With a 5.4-litre V8 that churns out 582bhp, it caught the eye of Formula 1 world champions Mika Hakkinen and Jenson Button who were both invited to place orders.
This particular example is one of only 40 right-hand-drive cars produced and is for sale with less than 7500 miles from new. It's very highly sought-after among car collectors and that's reflected in its pre-sale estimate that tops at £230,000.
For those looking to spend over £500,000 at Autosport International, a 1967 Aston Martin DB6 Volante is also set to go under the hammer. It has only three previous keepers, most notably having been bought in 1973 and then owned for 43 years by the same man before changing hands in 2016. As part of that, it also comes with a meticulous history and original manuals from the factory.
Only 140 Volante variants were made during the life of the DB6 but it's a moniker the brand has continued to use for its convertibles since its first appearance with this model.
Alex Wurz-owned Ferrari 208 GT4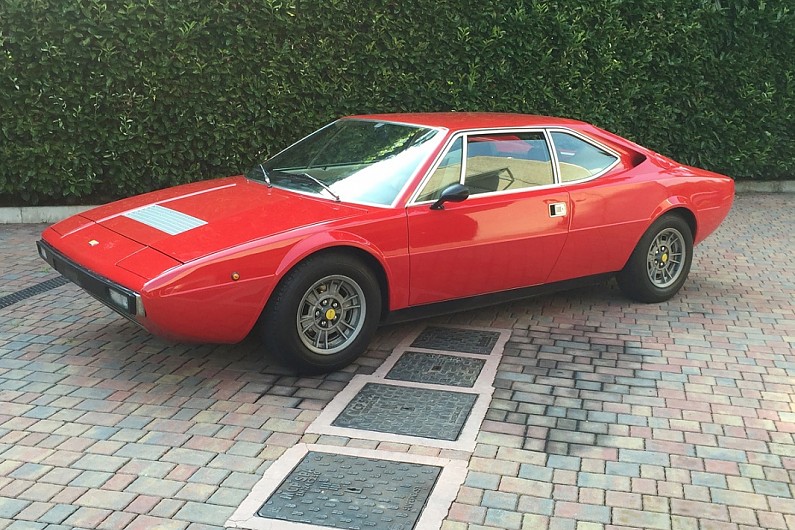 Affectionately known as the Dino, this 1976 Ferrari 208 carries celebrity ties in that it was owned briefly by former F1 driver Alex Wurz. The two-time Le Mans winner purchased the 180bhp V8-powered sportscar in 2015 and registered it for use in Monte Carlo.
Now though, it's back in the UK and the new owner will be the first registered keeper of the car in this country. Having been designed by Bertone and carrying the famous Prancing Horse badge, it's a comparatively inexpensive way into exotic car ownership with an expected sale price of £40,000.
One of just three Aston Martin Virage wide bodies ever made could fetch up to £280,000. Back in 1995 it cost £250,000 new courtesy of the exclusive factory coachwork that borrowed from the design of its supercharged V8 Vantage sister.
This convertible is finished in Rolls-Royce Royal Blue and produces 330bhp, enough to hit over 160mph flat out. This particular car has been updated with modcons such as a reversing camera, bluetooth and iPod integration. Despite the practical additions, it has covered less than 10,000 miles since it rolled out of the factory.
BMW 635 CSi Group A touring car
As is often the case with historic racing cars, this '1984' BMW Group A touring car was actually built in 2015 using an original shell sourced from Italy. Now running to FIA specification for use in the Peter Auto Heritage Touring Car Series, it packs 310bhp - 24 more than its road car counterpart.
The power hike and other racing modifications meant its newfound performance took it to second at both Spa in 2016 and the Algarve Classic in '17, all while wearing the infamous Marlboro white and dayglo colours. It carries an estimate between £200,000 and £250,000.
Ahead of the auction, Coys' senior specialist Nick Wells said: "The auction at Autosport International has been running for a number of years and it's the first one on the calendar each year. That means for us and the rest of the market, we can give an indication of what is to come for the rest of the year.
"Autosport International is a firm favourite destination for us as it's not only popular but also because the entire audience are enthusiasts, whether they're part of the auction or not. It's a great place to build an association with all the brands on show too."
Source: https://www.autosport.com/asi/news/133827/1million-ferrari-headlines-asi-coys-auction